Cooper was supposed to have his regularly scheduled ENT appointment later this month. With the newest ear infection I decided to see if I could bump it up a bit and find out some answers. We were lucky and they were able to get us in right away. Turns out after 2 antibiotics his ear is still full of fluid and the pressure reading of his ear drum is flat. Not for sure what all that means, he seems to be hearing fine but something isn't right. We go next Thursday for our third set of tubes. We are quite the regulars in that place. We may have to look into the kind that are permanent that need to be surgically removed. Or maybe I can budget a "Cooper ear tubes" envelope that we need to dig into every 2 years.
On a more happy note, we had a family gingerbread house project on Tuesday. I stole Gretchen & Brittany's idea of using our own chocolate icing and we added our own marshmallows and M&M's too. I like it! I think I just saw Cooper steal a nerd from it a few minutes ago.
Cooper got his school pictures back this week. As far as school pictures go, I find this one to be mighty handsome.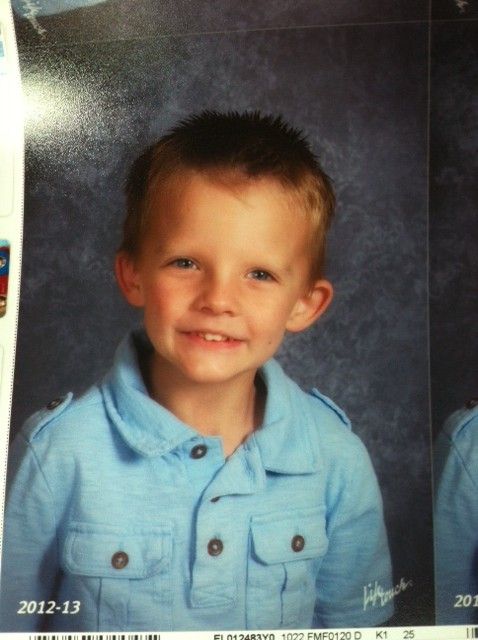 I also got a look at the Greater Clark school calendar for 2013-2014. It's so odd to see an exact date for him to start school. August 1st will be here before I know it. I'm gonna be a wreck.