Cooper has his second field trip of the year on Friday, this time to Derby Dinner to see A Fairy Tale Christmas.
My mom watched Cameron so I could go with him. I know once he starts kindergarten that every student can't have a parent attend, so I am trying to take full advantage of this while I can. He couldn't see over the wall and their decorations so he sat on my lap the whole time. I didn't mind that.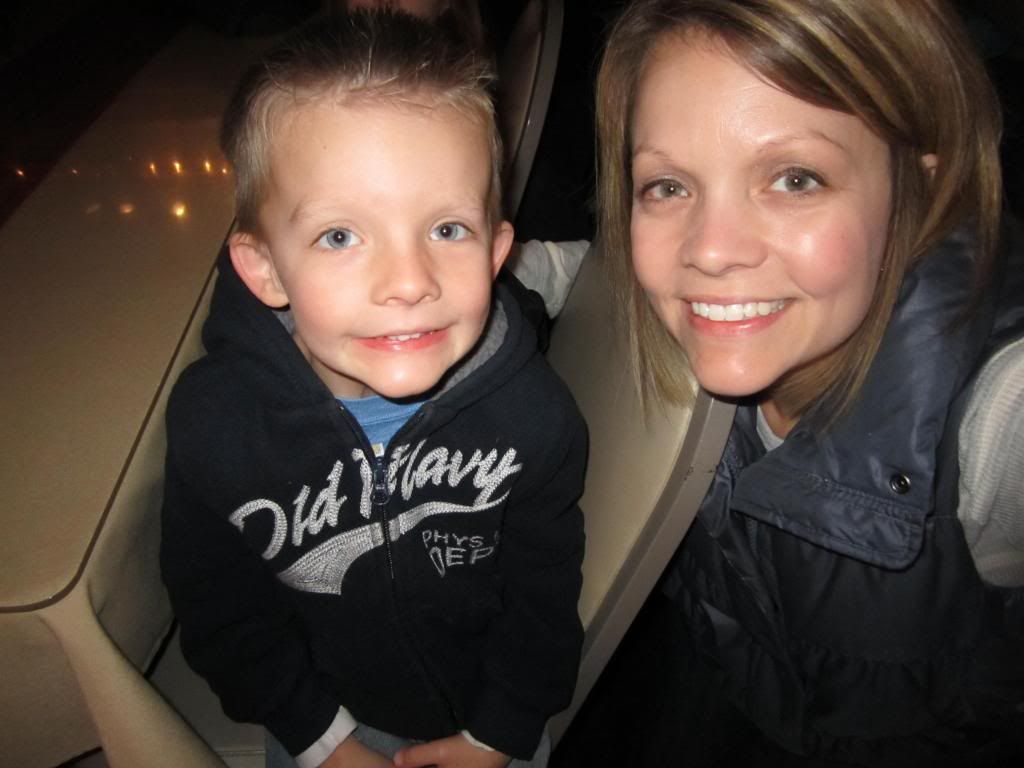 It was a super cute little play and he seemed to enjoy himself. Of course he also enjoyed the bus ride too.
This morning I went to Eastside's Second Annual Women's Christmas Brunch.
This is easily becoming one of my favorite activities we do as a body at church. It's such a great morning spent with women doing what we do best; eating and talking. It's also a wonderful time of fellowship. Karen came with me again this year. We don't see each other as much as I would like, schedules are just too different, I like that this has become a tradition for us.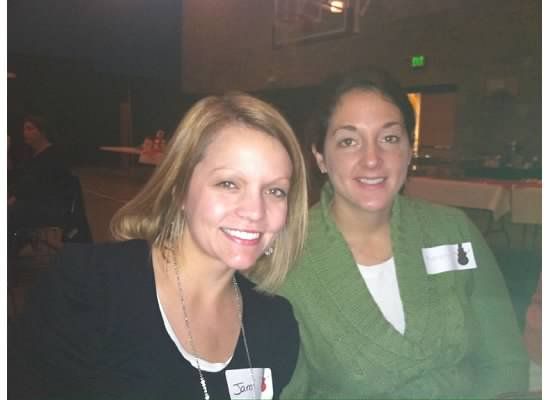 For the gift exchange we were to each bring in three identical unwrapped gifts. We were split into groups and each group got to go out to the lobby and pick their gift three times. Each time we went our time was decreased. There were so many great gifts. I brought in the book
Unglued
. I had heard so many good things about it. By the time I got my first round all three books were gone. I really wanted to get it back. I got back to my table and my dear sweet Karen grabbed the last one on her turn just to give back to me. I payed her back by getting her some warm fuzzy socks. I walked away with the book, a Sweet Frog gift card, a Christmas mug, an ornament, Bath & Body hand soap, a gift bag, and a pickle ornament. I have read a few different traditions for the pickle ornament. We are going to leave it for Santa to hide and whoever finds it first gets the first gift on Christmas morning.
We didn't have anything going on this evening, we threw around the idea of going to see the lights again and taking a carriage ride since it was so warm. However, I kind of like the idea of bundling up with warm jackets and a blanket to we opted for Bass Pro instead.
I love going to Bass Pro at Christmas. There is just so many fun things to see and do, although Santa was booked until 8:00 pm, don't know what that is about. It's just fun and has a great atmosphere. As we were walking in someone stopped Steve and gave him a gift card with $9 left on it. He said he lived up north and wouldn't be back down here and to have a Merry Christmas! How cool is that? we bought flashlights. Yes, flashlights. They had a 6 pack of LED flashlights for $9. You can't beat that. The boys love playing with them so they each got one, Steve & I got one to keep in our car and a couple extra for the house. I got a pink one and Steve is keeping the camo one. Fun times!!!
We don't have much going on tomorrow. Cooper has his Christmas program Monday night so I'm going to make some homemade chocolate chip cookies to bring in for the reception afterwards. Cooper took a nap today so his reward is helping me while Cameron naps tomorrow.
Random thought there but writing this will help me put it into practice. I am doing a Bible Study at church on Battlefield of the Mind by Joyce Meyer. It's all about how positive thoughts lead to positive actions and negative thoughts lead to negative actions. I spoke how I always had this vision of Sunday's would be like and it is nothing like that. They can be hard some weeks with Steve helping out, however I refuse to let Satan take away my joy of what Sunday's should be about. He tries every week to take it away but he will not win this week!